2021 harvest 194 Gross B&C
2 Deer over 200 B&C harvested in 2020, 100% free range fair chase hunting at its best!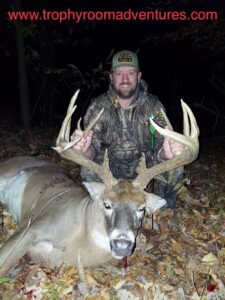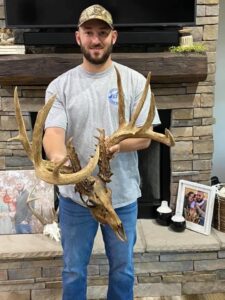 NEW FOR 2021!!!!
We are proud to announce that we will be starting an Upland Game Bird Preserve this fall, 2021. We will offer monthly Tower shoots, as well as dog Training and Daily Hunts with your dog, Our dog or no Dog at all. Check out the details on our Upland Game Birds Page.
ANNOUNCEMENT/ RANT!!!!!!!!!
This is gonna be a long one so go get some popcorn and a pop and sit back and relax.I am surely gonna lose some customers here but this has to be done.
I have been debating this decision for a while now and as i was driving home today from the Lodge in Ohio i spent a lot of time talking to myself, and the man upstairs about all of this and i think we are on the right track here so here it goes.
For the last 5 years I have done everything i could think of to try and help you guys have an opportunity to come hunt some of the best Deer Hunting properties in the country, As I was thinking about some of the trail cam pics that I got this weekend and every other year i have been an outfitter it dawned on me just how special of a place i have access too. There is not many places in the country that you can consistently year after year get trail cam pics of Free Range Boone and Crockett Class Whitetails and we have one of those places.
Now with that being said I think about all we here at TRA have done to try and make it very affordable for anyone to come up here and hunt the properties that hold these giants.We have given hunts away, we have helped Veteran Organizations get our military people up here, Kids, u name it we have done it, We have done everything possible just shy of begging people to come hunt with us, We have hunted as many people as the land would allow just so everyone that wanted to could have a chance at this experience, Why?
I can promise you its not for the money because i am as broke now as i have ever been. We do it because we love it, we love sharing what we have, We love to see the faces of people who just saw the biggest Whitetail they have ever seen, Not to mention the looks on the faces of the ones who harvest one.
Now what do we get for our efforts? We constantly get told how we are getting rich, how we are ripping people off, how we are making it hard to find a place to hunt, how people can hunt public land for free, and so on and so on. First of all I promise you you can not hunt public land for free, you have to get there, you have to sleep somewhere, you gotta eat? and then you hunt public land with everyone else in the country, you cant bait, you cant put in food plots? Can you kill a good deer on Public Land? Yes Absolutely but you are comparing apples to oranges when you talk about public land as opposed to managed private land. I don't care if the properties are side by side they are still miles apart and Neither one is free.
Now dont get me wrong, we have some great people who come hunt with us and contact us on regular basis and we appreciate each and every one, you guys are like good friends, but its getting to the point where its more of the negatives than the positives.
I've spent the last five years telling you why you should hunt with us at TRA. Now I think its time to tell you why not to hunt with us so here ya go.
1- If you think for one minute that I am taking advantage of you then please, Dont Hunt With US.
2- If you think you know more about the deer on our properties than we do then please, Dont Hunt With US.
3- If you think you have as good a chance at a Boone and Crockett Free Range Whitetail on public land as you do with us then please, Dont Hunt With Us.
4- If you think that what I charge for the services and experience i offer is too high then please, Dont Hunt With Us.
5- If you want to come to our properties and hunt the way you hunt at home then please, Dont Hunt With Us.
6- If you feel like you have to kill a deer everytime you go out then please, Dont Hunt With Us.
7- If you are gonna shoot a deer on day 5 that you let go on day 1 then please, Dont Hunt With Us.
8- If you cant stand the temptation of a 120 inch 2.5 year old deer then Please, Dont Hunt With Us.
9- If you want a guaranteed kill then Please, Dont Hunt With Us. Go to a High Fence operation, its not wrong its just different, again, Apples to Oranges
If you want to hunt on property that year after year produces huge Ohio Whitetail deer, If you want to hunt the way we have proven year after year works, if you want to enjoy the hunt and not just the kill, Have a great time, Great fellowship, make new friends, Relax, eat great meals then Please, Please, Please Hunt With Us.