Trophy Room Adventures Whitetail Membership
Thank you for your interest in Joining the Trophy Room Adventures Trophy Whitetail Club.
Let me start off by saying that if you are a "If it's Brown it's Down" type hunter then this club is not for you. TRA is in the Trophy Whitetail Business and will be strictly managing and policing these properties.
What we Offer
In Ohio
You will have access to over 2300 acres in Ohio, In the prime big buck country of Adams and Scioto Counties. You will be able to hunt these properties as much as you want, they will be available to you year round including Turkey Season.
There are 2 houses in Scioto County that you will have access to with a total of 5 bedrooms that will be on a first come first served basis. If you intend on staying in one of the houses you will need to schedule your dates with us. There is also ample room for campers to be set up at these two properties as well as garages to skin deer in.
We are currently looking at more property in the area and as we aquire it,  it will also be available to you.
In Kentucky
There is currently 1,100 acres In Lewis county Kentucky right across the river from our Ohio properties that you will have access to for deer hunting only, No  turkey hunting in Kentucky.
We are currently looking at more property in the area and as we aquire it,  it will also be available to you.
There is a large barn on the property and plenty of places for a camper.
Basic Rules
130 inch and above bucks only, Any buck taken that does not score 130" will have a fine imposed and must be paid or your membership will be forfeited and not renewed. (There will be exceptions for injured or over the hill bucks, must be inspected and approved by Trophy Room Adentures Staff.)
Only Members are allowed to hunt. Immediate family may come along and may be permitted to harvest a buck, but that will be the only buck allowed for that member in that state. In other words, you only get onw set of tags per state, per member, so if you let your son or daughter harvest your Ohio buck or your Ohio does, then you cannot harvest another one that year.  NO GUESTS!!!
You are allowed to harvest the legal amount of deer/turkey for one person per membership. For example, in Ohio you can harvest one buck and two does per membership.
No member is allowed to set up a stand site within 500 yards of another stand. You will be allowed to hang two stand sites at a time. If you want to move to another location you must remove one of your other stands prior to putting up another, again, only two stands at a time per member. There is almost 3,500 acres to hunt, no one will have to be hunted on top of.
The amount of memberships sold will depend on how much land is acquired, the general rule will be 100 acres per member. So starting off we will be looking for thirty-five members total.
The property must be respected! No driving in fields, destroying crops, leaving trash behind, if you bring it in, you take it out. Any member caught breaking these rules will be dismissed with no refund.
These are just some basic rules of the road. If you decide you want to join the club then you will be given a contract to sign that will have all the rules and responsibilities for membership.
Our Vision
Trophy Room Adventures wants to create a community of like minded hunters to achieve a common goal of harvesting mature trophy whitetails consistently.
There will be a facebook page set up for our club for members only. We don't want to keep secrets from other members, we want to share our knowledge and info and want you to share yours in order to make everyone's chances at a trophy possible. We want this club to be like one big family that takes care of each other and helps our neighbors if at all possible.
I will include some pics of the properties and some boundaries at the end of this page for you to view.  We have the right land in the right places to make this the best trophy whitetail club anywhere, all we need now is the right members.
So To Sum It Up
You get access to almost 3,500 acres of prime hunting land in two states. That means you could potentially harvest two trophies per year. You get access to two houses and multiple places to set up your camper. You can turkey hunt the Ohio properties. We will be continuing to add properties in both states, and you can be a part of the TRA Family,  which means any hunts you get on film can be aired on our show on the Pursuit Channel.
All For $5000 per year. That's just $1.42 per acre, where are you gonna find a lease that cheap? You won't!
The first thirty-five people to sign up is all we have room for right now so don't wait too long.
Check out the pics below.
Kentucky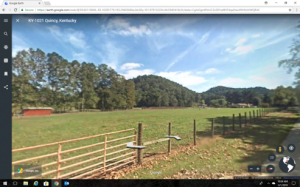 Ohio